Help raise money to fund cancer treatment for mother of four diagnosed with incurable secondary breast cancer to give her precious time with her children.
Back in August 2015, shortly after having her 4th child, whilst bathing she discovered a lump within her right breast. After consulting her doctor, she was given the shocking news that she had grade 3 breast cancer.
She came to terms that she had to fight this illness with all her power, but as she was about to start chemotherapy in December 2015, her son, then six month old Jaycob became seriously ill, too.
Lethargic, the still soft part of his skull started to swell and, after seeing the GP, he was rushed to hospital. It emerged that Jaycob's brain had filled with fluid which could cause damage to the brain – leading to him needing brain surgery four times in just two months.
Sadly, this meant that Carlene was unable to see her son throughout this period as her immune system had been totally wiped out by the chemo. This leading her to be open to infections and further illness.
This left her heartbroken as it would with anyone, as at times it was touch and go whether Jaycob would make it.
Back to October of 2015, Carlene had a lumpectomy, Unfortunately, surgeons could not remove all of the tumour, meaning she needed a second lumpectomy a few weeks later.
Still not cancer free, she was then told she needed to undergo months of chemotherapy to prevent the cancer from spreading.
As she was starting her treatment, Jaycob took ill and was rushed to hospital and then transferred to Sheffield children's hospital. Surgeons operated to drain the fluid from Jaycob's brain, but just 24 hours later, it returned and his stitches popped open.
Medics restitched his head, but again the fluid returned and burst them open.
Sent home for Christmas Day, Jaycob was rushed back to hospital on Boxing Day, as the fluid in his brain was now blood stained - a sign of a brain infection. Realising the seriousness of his condition, medics inserted a shunt into the baby's brain, during a four to five hour operation, to drain fluid away if it continued to build-up. Jaycob's operation was successful, after which he spent three weeks recovering in hospital.
I am pleased to say Jaycob is now fit and well and enjoying life as he explores the big wide world.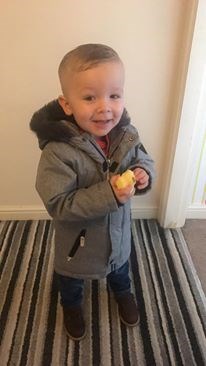 Carlene continued her treatment – going on to have a double mastectomy in June 2016, to stop her cancer from spreading.
Carlene had breast reconstruction surgery in February 2017 and was in what she thought was remission.
Unfortunately, this Christmas just gone, Carlene discovered another lump. This time in her stomach. Concerned, she sort advice from her GP and had tests done to establish whether the lump was sinister.
Unfortunately, tests have revealed that Carlene is now fighting again with this illness. Results show that Carlene has secondary breast cancer and is fighting for her life again at the tender age of 34.
Doctors are doing all they can for her, and Carlene is soon to start chemotherapy once again. This is to try and manage the cancer and make Carlene as comfortable as possible.
Let me remind you that Carlene has 4 children and an amazing partner by her side, but we need all the help we can to try and get her the help and support by experts to allow her to watch her children grow and to allow her to live a life she deserves. There are things out there that can help achieve this goal but they cost money, lots of it.
To donate please click here, thankyou for your help and support.